2/16/09 - Over the years, I've received emails from visitors to my site asking 'Hey, when are you going to offer a MilitaryMorons.com T-shirt?' or 'You guys should come out with a T-shirt' etc. As fun as I thought it'd be to have my own T-shirt for the site, I never got around to thinking up a design, and put the idea on the back burner. The back burner way in the back.
Andrew Bawidamann - If you've visited my 'links' page, you might have noticed the banner for Bawidamann.com that's been there since 2004. I'm a long-time fan of Andrew Bawidamann's military pin-up girl art, which is reminiscent of the classic WWII aircraft nose art pin-up girl. Since childhood, Andrew has had a love for the art form that is rooted in military and American history.
Andrew creates his curvaceous military pinup girls with both modern and classic themes, with a lot of attention to technical accuracy and detail in the equipment. This is one of the things that struck me when I first saw them. This guy knows his weapons. It's not surprising that he's an avid gear guy and shooter. His graphics are both colourful and stylish, and are not limited to military themes; he also does old school pinups with various themes ranging from Space Travel to Pirates.
Andrew makes a living from his artwork, and sells posters and T-shirts on his site. I've worn a variety of his pin-up girl shirts for the past few years, and they always draw interest and compliments. They're unique as they're drawn using modern techniques and themes yet are instantly recognizable as an homage to a nostalgic style. He gets his inspiration from many sources; sometimes from requests from guys in the military. Some of his latest pinup girls have been done at the special request of soldiers, showing his dedication to the morale of our troops.
Now, the colourful pin-ups aren't the only style that Andrew does. He has a lot of other artwork that he'll sometimes print limited runs for art shows, conventions etc. One of these is the 'Steel Death' T-shirt shown below; a one-colour design of a skull, 'Afrika Korps' -style palm tree and M240 machine gun. Ever since I wore that shirt as part of a TAD Gear Praetorian Hoodie review, I've had inquiries about it. This prompted Andrew to start offering them on his site, along with some other single-colour military designs.

How about an MM T-shirt collaboration? - Andrew, being a shooter and one who appreciates the latest and greatest in gear and clothing has been a frequent visitor to my site for years and it's helped him spend more money that he should. So, during one of our email banters, he asked me if I'd be interested in collaborating on a MilitaryMorons t-shirt. My answer was a resounding 'YES'. It was a no-brainer for me; when one of the best military pin-up/graphic design artists in the country offers to custom design a shirt specially for you, you don't pass that opportunity up!
All of a sudden, the project suddenly jumped to the front burner and the fire was lit! I liked the Steel Death T-shirt design so much that I wanted something along those lines - a single colour graphic. Also, I didn't want huge 'MilitaryMorons.com' letters emblazoned across the chest or back like an advertisement. We both agreed on a more subtle approach, and have a cool looking design first, that anyone would want to wear whether it was related to my website or not. Basically, it's for the 'militarymoron' in everyone.
The Design - So began the process of coming up with a design. I had some idea of what I wanted to incorporate into the design: it had to have guns, and I wanted to stick with the skull with horns theme, which I have on my EMDOM/MM patch seen on my hat and shoulder below. Plus, as a joke, I sometimes wear horns on my hearing protection.

Andrew actually had quite a few graphic elements that he had already done in the past, and put together some ideas, piecing together different elements. I'd have to say that we didn't have to go back and forth too many times - the samples that Andrew put together all looked good enough for a T-shirt. It was just a matter of narrowing down the choice of elements in the design, then refining it. The main graphic depicts a horned skull in front of a spear head (signifying the 'tip of the spear') shaped like the Ace of Spades (the 'death card' in popular myth and folklore). The tapered cylinder with ribs is the part of the spear head which attaches it to the end of the shaft. Below the spear head are crossed Mk48 Mod 0 7.62x51mm machine guns like the one I'm holding in the photo below. A belt of ammo is draped over the buttstocks. Andrew placed the 'MM' in stylized gothic font above the ammo belt.
Andrew suggested we put a small rear graphic on the back of the left shoulder, for a more unusual position (instead of centered). Since I liked the Afrika Korps palm tree and skull graphic, he used the MM skull from the front and incorporated it into the palm tree and added the gothic 'MM'. The Steel Death T-shirt graphic had a distressed look which I liked, so Andrew distressed the MM graphic as well. The final design and actual T-shirt is shown below, and I couldn't be more pleased with how it came out.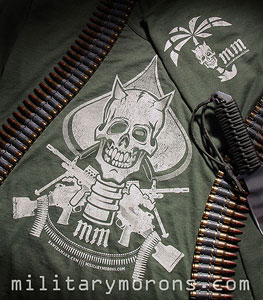 The MilitaryMorons T-shirt
MilitaryMorons T-shirt - Andrew printed his Steel Death design on Soffe Lightweight Military T-shirts, which has a more 'tailored/athletic' fit (at least on me). I also liked the comfortable, lighter weight material. We chose the same Soffe T-shirt for the MM Design. It's 50/50 Cotton/Poly and made in the USA. For now, it's only available in OD Green with a Sand coloured print. I'm wearing a size Medium in the photos below.
Important! If you prefer a looser fit, order one size up - these are a slim/snug fit.
Thanks to Andrew Bawidamann for doing such awesome work on this design - it's one badass-looking piece of military artwork!
Desert Sand MM Shirt
3/24/09 - In response to requests for a Sand version of the MM Shirt from Army personnel who can't wear OD Green T-shirts with their ACU uniform, Andrew re-worked the image to make it suitable for printing on a light coloured tee (the skull has to be reversed so that what was light on the green t-shirt is now dark). Again, Andrew did an awesome job, also adding more shading on the spear shaft and other areas.
The Sand MilitaryMorons T-shirt
The Sand MM T-shirt is printed on a Sand Soffe Lightweight Military shirt with dark brown distressed graphic.
Coyote and Black MM Shirts
1/6/10 - Andrew has done a run of Coyote and Black MM shirts. Both Coyote and Black shirts have the Sand MM print. Unfortunately, no SM or Med sized Coyote shirts were available at the time of printing, so those will have to be printed when they're available from Soffe. IMPORTANT! Do not order the SM or Med in Coyote, even though they're options in the drop-down menu on his site.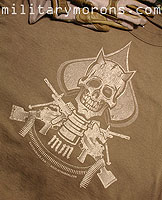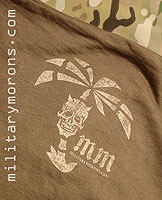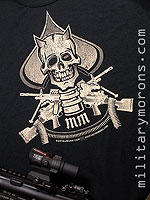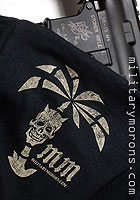 Andrew also decided to offer the Steel Death T-shirt in Sand, with a subdued graphic.

The MM T-Shirt is only available through the Bawidamann.com webstore in limited short runs.